Factory Records: Factory Once
Subscribe in a reader
A wing of Factory Too, Factory Once's main output was the repackaging and reissuing of the 8 core Factory Records albums by
THE DURUTTI COLUMN
.
Catalogue
FACDO 14 THE DURUTTI COLUMN The Return Of The Durutti Column
FACDO 44 THE DURUTTI COLUMN LC
FACDO 74 DURUTTI COLUMN Another Setting
FACDO 84 THE DURUTTI COLUMN Without Mercy
FACDO 144 THE DURUTTI COLUMN Domo Arigato
FACDO 204 THE DURUTTI COLUMN The Guitar and Other Machines
FACDO 244 THE DURUTTI COLUMN Vini Reilly
FACDO 274 THE DURUTTI COLUMN Obey The Time
(ONCE) THE DURUTTI COLUMN The Third Member of The Durutti Column
(ONCE) HAPPY MONDAYS Loads
(ONCE) VARIOUS ARTISTS Too Young To Know, Too Wild To Care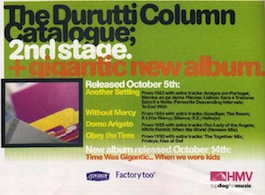 Labels: Labels
The Factory Records Catalogue is the ongoing project to develop the Master Discography of Factory Records including Factory Communications Limited and all its subsidiary labels: Factory Too, Factory Once, F4 Records, Factory Benelux, Factory US, Of Factory New York (OFNY), Factory America, Factory Australasia and IKON/FCL.
Work is substantially completed on all entries. In case FeedBurner suffers an untimely demise, I am undertaking work to restructure artist, designer and producer indexes.
If you have any corrections, comments or imagery please
contact me
. [13.03.17]
factoryrecords.org is proud to be associated with the forthcoming official
Factory Benelux
website.