Factory Records: FACT 186 VARIOUS ARTISTS Festival of the 10th Summer (Compilation)
Subscribe in a reader
ALBUM
/
VIDEO
UNDONE
Notes: An album & video commemorating (documenting?) the
FAC 151
G-MEX Tenth Event which were never released due to publishing problems with some of the non-Factory bands' labels.
"The TV show of the Tenth Summer concert" is mentioned in a Factory Records advertisement which appeared in a magazine (possibly Q). See
The Factory Records Project
.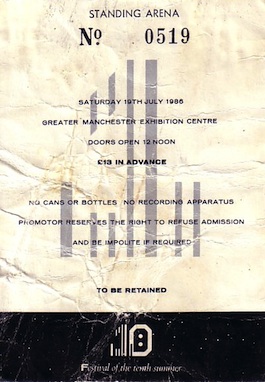 Labels: ACR, Album, Cabaret_Voltaire, Durutti, Echo_and_the_Bunnymen, FAC, Happy_Mondays, James, John_Cooper_Clarke, New_Order, Pete_Shelley, The_Fall, The_Smiths, Undone, Video, Wayne_Fontana
The Factory Records Catalogue is the ongoing project to develop the Master Discography of Factory Records including Factory Communications Limited and all its subsidiary labels: Factory Too, Factory Once, F4 Records, Factory Benelux, Factory US, Of Factory New York (OFNY), Factory America, Factory Australasia and IKON/FCL.
Work is substantially completed on all entries. In case FeedBurner suffers an untimely demise, I am undertaking work to restructure artist, designer and producer indexes.
If you have any corrections, comments or imagery please
contact me
. [13.03.17]