Factory Records: FACT 244+ VINCENT GERARD / STEPHEN PATRICK I Know Very Well How I Got My Note Wrong
Subscribe in a reader
SINGLE
3/89
7": UK 1989 (Factory FACT 244+) *
CD3: UK 1989 (Factory FACD 244+) **
1:55 I Know Very Well How I Got my Note Wrong
3:12 Red Square ***
2:15 William B ***
~ FAC-244/7-A, TS-001-A-1, LYN 22942, A
* One-sided.
** 3" CD.
*** Durutti Column-only tracks.
CD
~ FACD 244/3 . Mastered By Nimbus
Design:
JOHNSON/PANAS
Notes: Bonus single with
FACT/FACD 244
. (First editions only.)
An out-take from the recording sessions for (Stephen Patrick)
MORRISSEY
's "Viva Hate" LP sessions w/
VINI (Vincent Gerard) REILLY
, from which his "Suedehead" EP was sourced. (The proper take of this track was a Morrissey B-side).
See also:
THE DURUTTI
COLUMN
,
THE SMITHS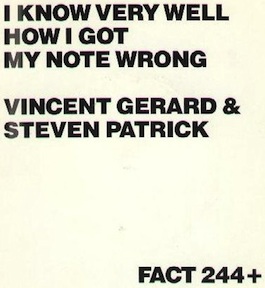 Labels: 7inch, CD3, Designed_Johnson_Panas, Durutti, Morrissey, Single
The Factory Records Catalogue is the ongoing project to develop the Master Discography of Factory Records including Factory Communications Limited and all its subsidiary labels: Factory Too, Factory Once, F4 Records, Factory Benelux, Factory US, Of Factory New York (OFNY), Factory America, Factory Australasia and IKON/FCL.
Work is substantially completed on all entries. In case FeedBurner suffers an untimely demise, I am undertaking work to restructure artist, designer and producer indexes.
If you have any corrections, comments or imagery please
contact me
. [13.03.17]